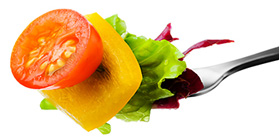 I have had an occasion to request the catering services of Irina for a function, for about 60 people, to be held at my place. When I first contacted Irina, I was most impressed by her willingness to accommodate for any additional items that were not included in her extensive menu. She was prompt, obliging and very professional in her responses to any query I had. She provided me with advice and, when there was a dish that I wasn't sure of, she offered to provide some samples and at no cost. They all proved to be delicious. The food that she prepared was delivered on the day, on time and in separate hygienically sealed containers. It was very fresh, of high quality and most of all very tasty and well presented. I received many very good comments from my guests on the day. I would have no hesitation in recommending Irina's services to anyone.    Nicole Wurzel  
Irina's food is not just very healthy and delicious, but beautifully presented too.
The choice is very broad also.
I would recommend her services to anyone.  

Maya

 
I asked Irina to cater for 25 people for a 70th birthday lunch on Australia Day.  I asked for a cold buffet lunch and chose from her very extensive menu.   The resulting luncheon was delicious and was delivered to the venue, on the day, already on serving platters.   I hope to use Irina's services again, later this year, and highly recommend her dedication to good food and her professionalism.   Veronica Trayford  
When we buy Irina's meal – we then never leave a crumb on our plates, literally lick the fingers. It is so tasty and fresh, always made with quality ingredients. If I could live only on Irina's sour cabbage and belashies (or mantis) – I would! Now in winter you buy some hot meal pot (lamb harcho, or vegetarian soup or wonderful plov),  piroshkies or staffed cabbage rolls (admirable too), – and then you think all day how to get home quicker and eat your wonderful dinner! Generous portions and very reasonable prices – value for money for sure. Highly recommend!   Katya and Paul  
My wife and I are regular and very happy clients of Irina's catering service. The food and desserts are always fresh, delicious and well presented. Irina offers a wide range of foods, so it easy to provide guests with something a bit different. One of my favorite "discoveries" is Irina's "chicken liver cake".  

Charles van't Westeinde

 
Thank you very much, Irina, for all that you did for my 40th celebration. You blew away all my expectation for this event. Everyone (75 people) thought your food was outstanding and the presentation for this event was remarkable.
I personally think that you are a real asset to the Russian cuisine. I wish you all the very best with you business and would be happy to recommend you for any function.  Look forward to tasting more of your food in the future.
Boris Zaslavsky
Irina is the best chef. Her food is 100% quality and tasty.
It's great for functions and everyday. Irina is also a wonderful person.
Highly recommended to everyone.
   Amanda

Больше 6 лет пользуемся услугами Ирины и всегда ждем ее блюда как праздник!
Все блюда наивысшего качества и высочайшего мастерства! И мы и гости всегда в восторге!
Прямо чувствуешь, что приготовлено с душой и заряжено на любовь.

Семья Мурач
We can't imagine any of our family birthdays parties without Irina's cakes!
Her "Kiev" cake is a melt-in-the-mouth miracle. Her "Rainbow" cake with on demand decorations ranging from Peter Rabbit to a very realistic pineapple has made many children happy over the years.
I'd highly recommend Chef Irina to anyone who likes delicious food and excellent service!

Anna